Round wood must be transported efficiently and professionally towards the back so that the timber industry remains profitable. So leave that to more experienced specialists – Trebert Holztransporte.
Our company has been working successfully for customers in the timber processing industry for many decades. We carry diverse timber transports throughout Germany, be it short timber transports or long timber transports: We create everything from two to 20 meters in length, from the forest to its destination. Wherever you want, in the most rational way and always in good time.
Trebert Holztransporte combines the advantages of a traditional family company with the advances of modernity. Our technology and our know-how are up to date. We act with foresight on a solid foundation of experience and a network that has grown over generations – for your benefit. Founded in 1958 by Karl Trebert, and Frank Trebert has been managing our company for several years. Our customers know us as an experienced service provider for timber transport in Germany.
We do everything. Our efficient fleet supports us with various special trucks. Short timber trucks for lengths between two and five meters, long timber trucks for up to 20 meters, each with and without a crane, individually or as an articulated train. We also have semi-trailers for large orders without a crane. These so-called trailers are ideal for spacious and level paths, large transport volumes, and distant destinations. Our "smaller workhorses" maneuver more agile and can load themselves with a crane – skillfully managed by confident drivers, of course.
Optimally equipped and trained in this way, we can handle any transport task for you in any terrain and any weather. We also load and unload your timber for overseas containers on site.
You can rely on us! Professional service for our customers is a proven basis, reliability is a part of our self-image and flexibility is our elixir of life. Active competence and constant orientation to customer needs are in our blood. This is how we process your order quickly and professionally within a very short time.
Let us know what we can do for you. Just contact us!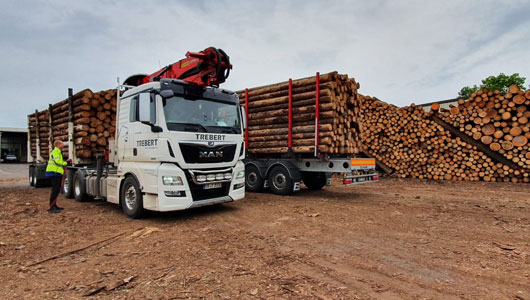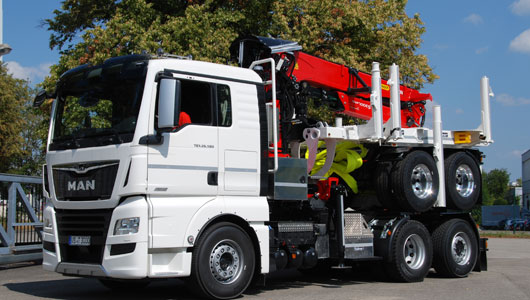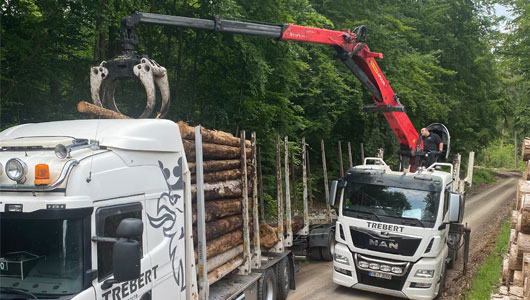 Timber transport by professionals!
Call us or leave a message per email. We will contact you as soon as possible!
Email: info@trebert-holztransporte.de
Phone: +49 6636/207
Mobile: +49 1708191112