Timber Transports in Germany
EFFICIENT TIMBER TRANSPORT IN GERMANY
Trebert Holztransporte is your professional partner for the efficient transport of timber in Germany. For many decades we have been a successful service provider for the timber processing industry. As a company, we organize our transports promptly and efficiently. Whether short or long timber, large or small transport. Equipped with specialized equipment, we transport logs between two and twenty meters in length in an environmentally friendly way to the specified location. We are up to every transport task regardless of snow, slopes, or distant destinations.
LOGISTICS - A MEASURE FOR CORPORATE SUCCESS
Logistics is of considerable importance for the economic success of a company. Because we organize our planning with the aid of computers and building on an efficient fleet of vehicles, we achieve considerable savings in transportation costs. Using modern transport technology, we accelerate the flow of goods without the quality of timber suffering. The state-of-the-art fleet of Trebert Holztransporte allows for freshly felled timber to be cut on the spot and loaded onto the next means of transport. The vehicles can be equipped with barges and saws as needed so that we can act flexibly on site. Thanks to state-of-the-art loading techniques, forest paths that are difficult to access are no problem for us. We deliver short timbers up to five meters in length directly from the forest to your desired location. We also supply long timber transports to your destination. If you would like to export your timber to distant cities or countries, we will deliver the cargo to your desired train station or destination port.
WE RELY ON AN EFFICIENT FLEET
Each of our vehicles has individual advantages: The trailers are particularly suitable for wide and level paths, distant destinations, and large amounts of timber. Our short timber trucks are more agile and easier to maneuver. Our confident drivers ensure that every timber transport reaches its destination safely and without damage. Trust in the professional service and reliability of Trebert Holztransporte for your timber transports. Our experienced staff provides professional, tailored solutions for all-weather and on any terrain.
OUR SERVICES
Get an overview of all our timber transportation services!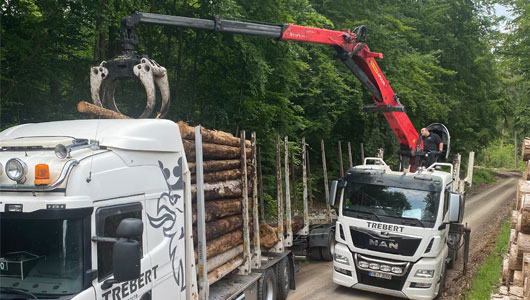 SHORT TIMBER TRANSPORT
We deliver timber with a length of up to 5 m to your desired location.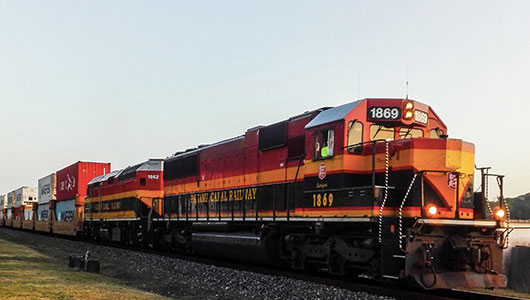 RAIL LOADING
We load wagons with timber for fast transport by rail. Wagon loading is our thing!
EFFICIENCY THROUGH INNOVATIVE TECHNOLOGY
We create efficient solutions for you, by using modern and reliable technology!
Timber transport by professionals!
Call us or leave a message per email. We will contact you as soon as possible!
Email: info@trebert-holztransporte.de
Phone: +49 6636/207
Mobile: +49 1708191112